Follow us also on Telegram
The Turkish service of CNN, CNNTÜRK, has prepared an 8-minute article entitled "The bloody history of ASALA և ADL (JCAG) terrorism." In the prepared report, the old thesis that allegedly militants of the Kurdistan Workers' Party are fighting in the Artsakh Republic was circulating. During the report, the news outlet published footage allegedly showing that PKK militants were fighting together with "ASALA."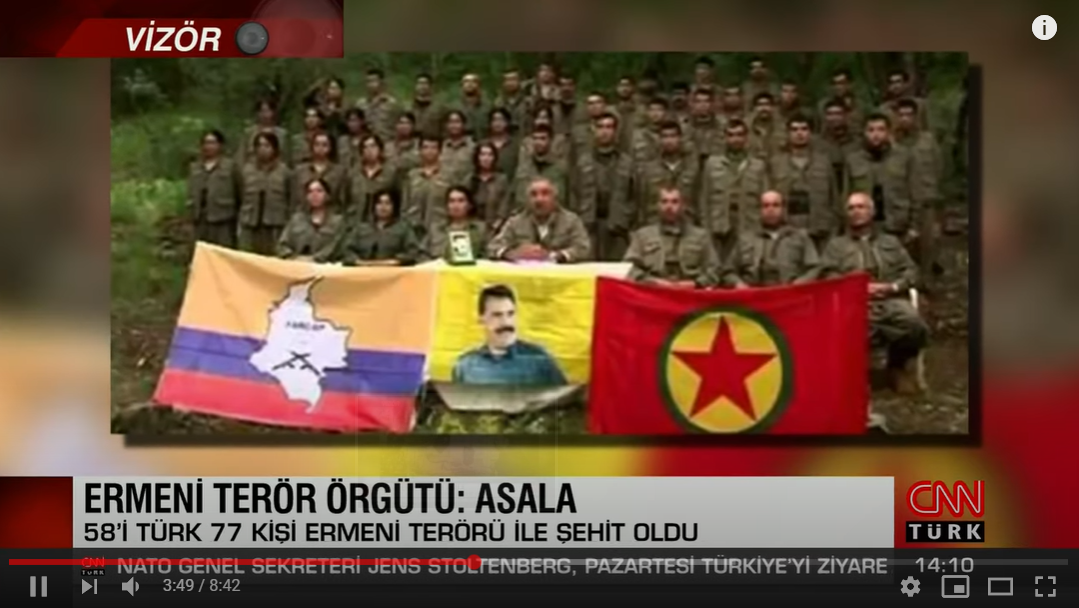 It should be noted that the episodes published by the media were falsified. In particular, the orange, blue and red flag flying next to the Kurdistan Workers' Party flag actually belongs to the Colombian National Army (FARC), so the map on the flag belongs to Colombia.
In an attempt to justify the presence of terrorists brought from Syria to Azerbaijan, who are currently fighting against the Republics of Artsakh and Armenia, the media outlet also published a photo taken in 2019, continuing the claim that PKK "terrorists" are fighting against the Azerbaijanis in Artsakh.
This photo was actually taken in Syria and shows an episode from the gathering of the "Nubar Ozanyan Armenian Brigade" formed on the 104th anniversary of the Armenian Genocide.